The Mindset of Becoming a Mechanech
December 28, 2020
A Conversation Among Administrators: Professional Development
March 8, 2021
Conversation Among Administrators Webinar 01.19.21 and 02.08.21 One RSVP works for either or both Webinars.
$0.00
SKU:

Event_2021_03_06_Conversation_Among_Educators_Webinar
Category: Past Events
Description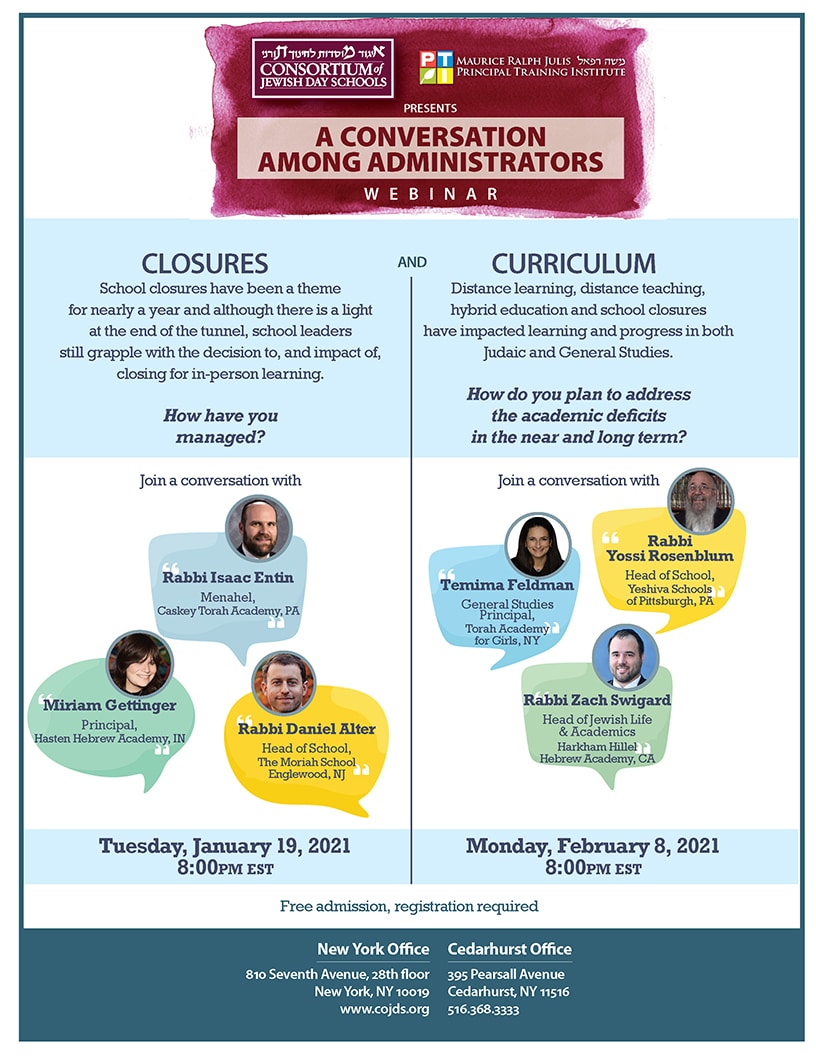 CLOSURES AND CURRICULUM
January 19, 2021 8:00pm est
School closures have been a theme for nearly a year and although there is a light
at the end of the tunnel, school leaders still grapple with the decision to, and impact of, closing for in-person learning.
How have you managed?
Join a conversation with:
Rabbi Isaac Entin, Menahel,
Caskey Torah Academy, PA
Miriam Gettinger
Principal, Hasten Hebrew Academy, IN
Rabbi Yaakov Sadigh
Head of School, HANC West Hempstead, NY
  February 08, 2021 8:00pm est
Distance learning, distance teaching, hybrid education and school closures
have impacted learning and progress in both Judaic and General Studies.
How do you plan to address the academic deficits in the near and long term?
Join a conversation with:
Rabbi Yossi Rosenblum
Head of School,Yeshiva Schools of Pittsburgh, PA
Temima Feldman
General Studies Principal, Torah Academy for Girls, NY
Rabbi Zach Swigard
Head of Jewish Life & Academics
Harkham Hillel Hebrew Academy, CA