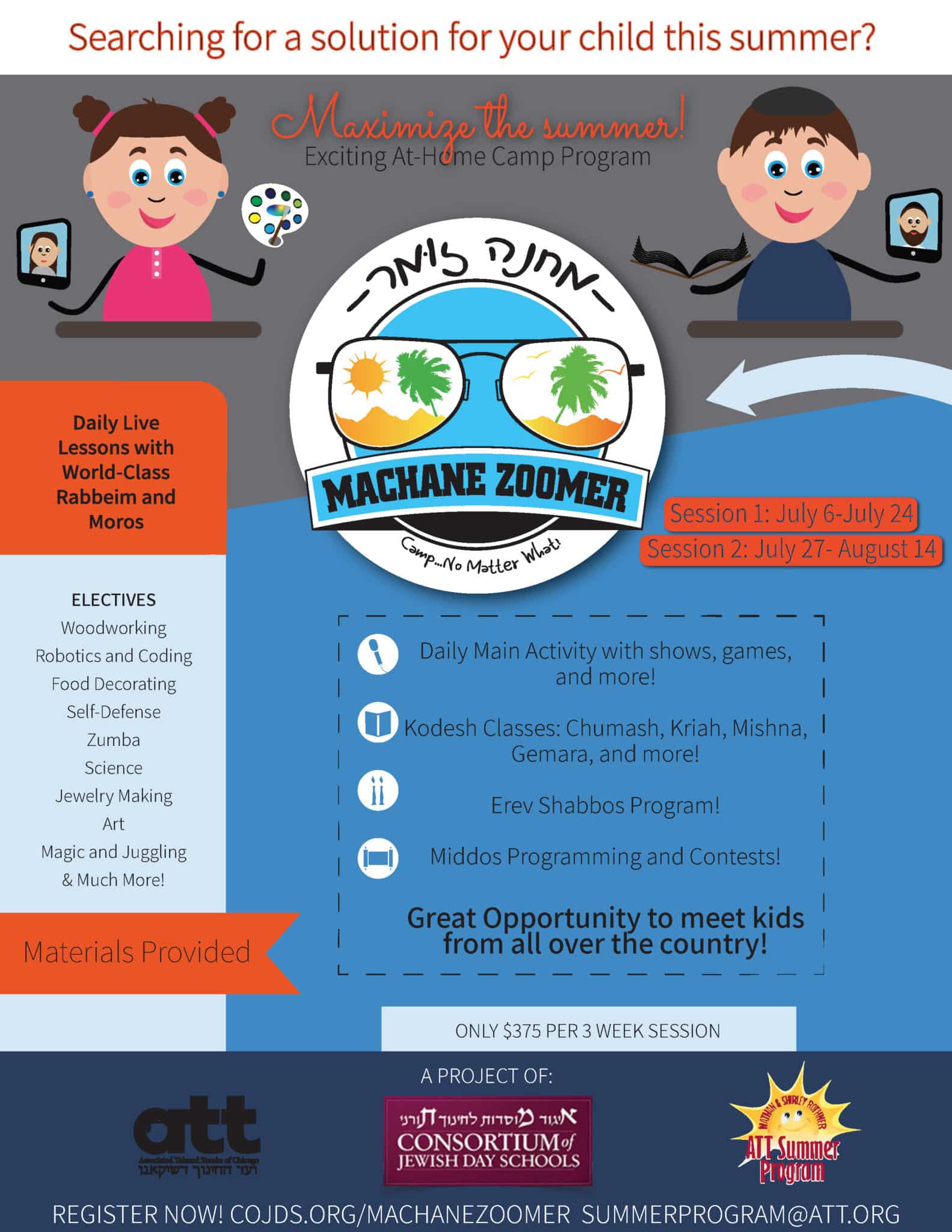 Machane Zoomer! Camp No Matter What!
Dear Parents,
The Consortium of Jewish Day Schools and the Associated Talmud Torahs are pleased to offer Jewish boys and girls across the country its unique virtual camp, Machane Zoomer, for the summer 2020 camp season. The Nathan and Shirley Rothner מחנה זומר promises to be an exciting experience which will provide your child with many fulfilling hours of learning and fun. 
STEM programming will be provided by the Walder Science Center. Courses will include Science, Coding and Robotics.
Machane Zoomer offers a diverse menu of hands-on learning experiences that both stimulate and teach children completing grades 1-7. The program serves our elementary school children by giving them a safe and nurturing environment in which they can pursue their interests in specific areas of learning. Our commitment is to bring the joy and lighthearted fun of summer camp to our children this year! Our lineup includes a vast array of old favorites and new activities catering to every child's interest.
We look forward to sharing a fantastic and fun-filled summer with your children!
Sincerely,
Susan Feuer
Aviva Hoberman
Shelley Stopek
Click here to download our brochure: »
Click here to view the daily schedule and choice of electives »
Click here to download terms and conditions »
Registration Deadline for Session 1: July 1, 2020
Program Structure
Tefillah and Middah of the Week- 30 min.

Text-Based Class-45 min.

Elective 1-45 min.

Elective 2-45 min.

Lunch and Main Activity- 1 Hr. 15 Min.

Elective 3- 45 min.
Electives run according to the following schedule:
Mondays and Wednesdays, and Tuesdays and Thursdays
Special programming will be offered for Fridays.
Program Costs (per 3 week session)
$375 per 3 week session. This includes the supply fees. 
Shipping costs for supplies will incur an additional fee.
Some communities will have a local pickup option for supplies.
Registration for the first session, July 6-24 must be completed by July 1.
Registration for the second session July 27- Aug. 14 must be completed by July 15.
Mark Your Calendar
Thursday, July 9 – 17th of Tammuz, Camp in session
Thursday, July 30 – No Camp, Tisha B'Av
Classes must reach a minimum of children registered in order to run.  The camp administration will be in touch with families if a change needs to be made in a selected elective.
For more information, please contact: summerprogram@att.org