by Daniella Botnick
I
am a seasoned educator -- having taught for more than 20 years, yet I still consider myself a student. Over the years I have continuously sought to learn innovative ways to educate and reach students. Based on my own experience in the classroom and influenced by the research on utilizing creativity and different modalities in 21st-century learning, I have shaped my own teaching to include more creative expression and deeper student involvement. As a result, I have witnessed remarkable engagement on the part of students who were otherwise turned off to traditional methods of education. As many Jewish educators can attest, one of the primary problems that we face is engaging students in faith-based texts. The challenge of all educators is to engage students in text, but the struggle becomes particularly attenuated when we ask students to move beyond understanding the text and allow it to shape their daily lives. Moreover, if we expect the learning to touch not only their minds, but also their hearts, shouldn't we demand more of ourselves when we teach the standard curriculum? In light of the above, over the last few years I have consciously shaped my teaching to include more creativity in the hopes that the learning will impact them more deeply. I had the privilege of being selected to visit High Tech High and was blown away and inspired to see the level of depth and engagement on the part of the students because of the emphasis on using creativity in the classroom. I began to research the importance of using creativity in the secular classroom in hopes of applying these findings in the Jewish studies classroom. From my research it seemed to me that the goal of using creativity in the secular classroom was to enable students to be better equipped to meet the challenges of a new demanding workforce which will emphasize ingenuity and innovation. As a Jewish educator my focus is not so much on preparing the students for the future workforce, but rather on preparing students for the future of the Jewish people. Would the successes of the use of creativity in secular school settings be applicable to the Jewish day school setting? From the experimentation I've done in formal and informal classroom settings, I believe that using creativity has allowed my students to engage far more deeply in their work and has enabled them to reconnect on a deeper level with their faith. My students' work is what keeps me going when I have those moments of self-doubt. A number of years ago, when I was teaching in a different school, I was tasked with teaching a group of five junior and senior students. I was asked to teach them anything Jewish that they could connect with. I thought deeply about how I could attempt to reignite their Jewish souls to want to engage with their Judaism. We know that art and music are pathways to the heart and soul and we also know that when students are tasked with demonstrating understanding of what they have learned through creative means, their work exhibits complexity, originality and transformation. So, I focused on incorporating the arts into my curriculum in order to engage their hearts and souls as well as their minds, so that what I would teach them would resonate throughout their lives.
The technique of using the arts to reach the students was more successful than I could have imagined. Because of the success of this course, the school asked me to design a new course for the following academic year that would be offered to upperclassmen as an elective. The course was called "Judaism through the prism of the Arts." The focus of this course was to learn Jewish text and then have the students engage deeply with the content by creating original works – such as painting and poetry. (See video based on the first semester of this course.)
In my new role as director of curriculum of general studies in an all-boys junior high school, teaching and overseeing completely different material, I am still using the same basic approach as I used before when I taught Jewish studies at my previous school. The goal that I have is for students to make meaning of the material they are learning through creating their own expressions of the material. While our school clearly emphasizes the centrality of Torah, the school's mission is very clear about the importance of preparing their students for any endeavor that they might wish to pursue in their life – including the option of going to a secular college. In order to get the students excited about our learning, I told the students that instead of tests, we would be having an exhibit where their work would be put on display at an "Evening of Discovery" which was inspired by a museum exhibit. Overall, the students produced many impressive "artifacts" that we displayed at our exhibit. I was most proud of one of my students who redid his colony project three times, because he didn't feel like his first two versions expressed "his potential."
Some examples of student "artifacts" that were produced for this exhibit include the following:
∙ Ships which had to include accurate information about different explorers
∙ Journal entries written in the voice of an explorer or a Native American which had the pertinent information we had learned about this topic
∙ An advertising campaign for a colony to attract new immigrants to move to that colony
∙ Expressionist masks to represent Christopher Columbus and Native Americans
The final proof that I had that this approach to teaching was more successful than I could have predicted is based on
this video of a student reflecting on the deep learning that he engaged in throughout the learning process of creating the "colony project."
Student testimonials like these indicate to me that the approach of having students deeply involved in the learning process through creating as opposed to spitting back information, is the key to engaging them in learning. In addition to the more traditional classes that were taught, this year we introduced a mini-courses program where students were placed in a variety of mini-courses for one trimester. The art instructor had students design maps inspired by the ancient explorer maps. He also had students create clay figures of explorers. Here is some of the work that was produced in the art and woodworking courses which were integrated into the history curriculum:
Although the last semester of the year really challenged us to rethink everything we knew about education, when we went to Zoom I decided that we would still have a virtual exhibit.
(Here is the video of the virtual event.)
I assigned creative work that would engage students in heart and mind and once again, and the students rose to the occasion. Students created raps based on the knowledge they learned about President Andrew Jackson, they wrote a book about a gadol who lived during the historical eras that we learned about, and we completed their art project which was thematically connected to their research about a gadol. Here is a picture of the final gadol project which is now hanging in the main entrance hallway of our school.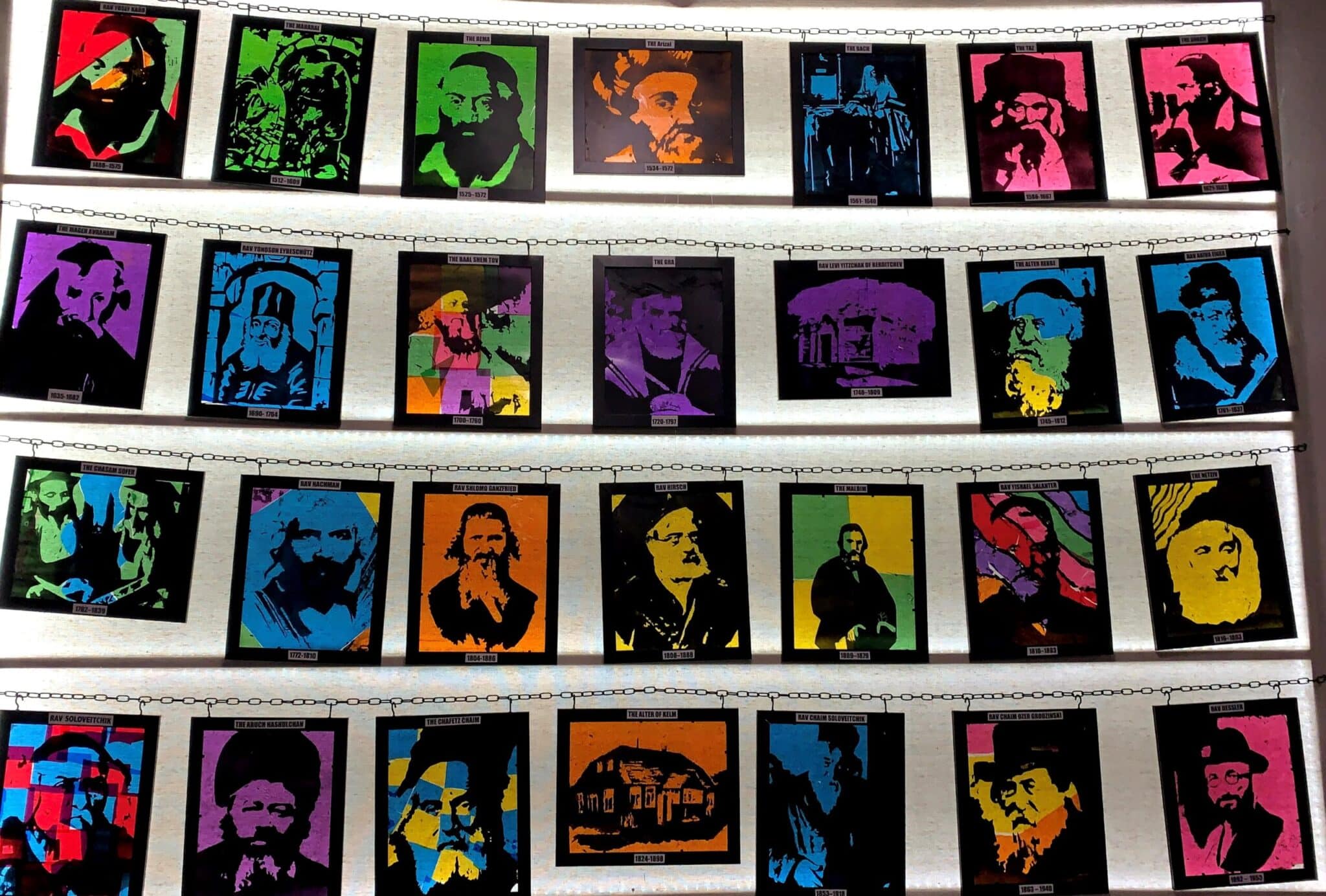 While PBL doesn't solve every challenge inherent in boys junior high education, we have received tremendously positive feedback from the students and the parents about the project-based learning that is happening. We hope to see it continue to grow so that more students will have the opportunity to learn in a more meaningful and lasting way.
Daniella Botnick is Director of Curriculum and teaches Humanities teacher at the Boys Junior High Division, Hebrew Academy of Cleveland. See more of her work at www.drbconsultingservice.com.
1. High Tech High is described as a "San Diego charter school (that) exists to prepare students -- all kinds of students -- to be savvy, creative, quick-thinking adults and professionals in a modern world. It has scrapped a lot of what's arbitrary and outdated about traditional schooling -- classroom design, divisions between subjects, independence (read: isolation) from the community, and assessments that only one teacher ever sees." (Real World, San Diego: Hands-On Learning at High Tech High- Students prepare for the real world through technology-enabled projects. Grace Rubenstein, Former senior producer at Edutopia, December 3, 2008.) In November of 2015, our school sent a small delegation of teachers and administrators to learn from the educational approach of High Tech High.
2. New forms of work rely increasingly on high levels of specialist knowledge, and on creativity and innovation. The new technologies in particular require wholly different capacities from those required by the industrial economy… Given the speed of change, governments and businesses throughout the world recognize that education and training are the keys to the future, and they emphasize the vital need to develop powers of creativity and innovation." (Out of our Minds - Learning to be Creative. Ken Robinson, Capstone Publishing Ltd. 2011. p. 6.)
"…Which is why despite the shiny new tools or the seemingly unending string of new learning approaches (flipped, blended, collaborative, personalized, project-based and on and on), nothing has really changed. Kids are still bored in school. We still assess the stuff that's easy to measure at the expense of attending to the more important stuff that isn't, things like creativity and curiosity and determination." ("Stop Innovating in Schools, Please…" Will Richardson, Huffington Post. April 12, 2016.)
3. In the year 2011, global levels of unemployment among young people aged 15 to 24, were the highest on record. (ILO Global Employment Trends for Youth 2010, ILO Geneva, Copyright International Labor Organization, 2010.) "We not only need a higher percentage of our kids graduating from high school and college- more education but we need more of them with the right education. Our schools have a doubly hard task, not just improving reading, writing and arithmetic but entrepreneurship, innovation and creativity." (Friedman, Thomas L (2007), as quoted in Out of our Minds - Learning to be Creative, Ken Robinson, p.11.)